MTG Arena codes are the best way to get all kinds of free booster packs, cards, and of course sweet sweet cosmetics.
Sometimes it can be hard to find all the available free MTG Arena codes in one place. That's why we compiled each and every one of them here. You'll find all currently active codes below. Be sure to check back daily for new MTG Arena promo codes!
NEWEST MTGA CODE: We want to highlight the newest code. PLAYM21 will get you 3 Core Set 2021 Packs.
How to Redeem MTG Arena Codes
Redeeming MTG Arena codes is really easy. Follow these steps to redeem codes:

On the home screen click Store.
In the top right corner, you'll see Redeem Code window.
Write the MTGA promo codes there. Be careful to correctly use uppercase and lowercase and type them exactly as seen. If a code doesn't work, try using all uppercase letters. If you get a Redeem Code Failure message this either means that you have mistyped the code or it's expired.
Press Enter.
Enjoy your free stuff. 🙂
MTG Arena Pack Codes
Since MTG Arena went into Open Beta each edition had a special promo code. These MTGA codes grant a player three packs of the respective set. You can find all of them in a table below. We hope you'll get something good.
| CODE | REDEEMS | EXPIRES |
| --- | --- | --- |
| PlayAllegiance | 3 Ravnica Allegiance Packs | July 1, 2020* |
| PlayRavnica | 3 Guild of Ravnica Packs | July 1, 2020* |
| PlayWarSpark | 3 War of the Spark Packs | July 1, 2020* |
| PLAYM20 | 3 Core Set 2020 Packs | July 1, 2020* |
| PlayEldraine | 3 Throne of Eldraine Packs | July 1, 2020* |
| PlayTheros | 3 Theros Beyond Death Packs | Unknown |
| PlayIkoria | 3 Ikoria Lair of Behemoths Packs | Unknown |
| PLAYM21 | 3 Core Set 2021 Packs | Unknown |
* These codes were supposed to expire on July 1st, 2020. However, they still worked on July 8th, 2020 so give them a try, if you haven't used them already.
Experience Codes
As you know you get experience from quests and from your weekly wins. You can also get some experience by using the MTGA codes below.
| CODE | REDEEMS | EXPIRES |
| --- | --- | --- |
| LevelUp | 2000 XP | Unknown |
Twitch Prime Promo Code
If you're an Amazon Prime member you can sometimes get a code that redeems for a 60-card deck. Recently you could sign up te get a Liliana's Legion deck. This promotion started on December 3, 2019, but is now expired. Any duplicates you get from this kind of codes go towards your Vault and increase your progress.
As an example – the last deck contained one mythic rare planeswalker and five rares:
Once a new promotion comes up, we will update the article with new info.
Pimp Your Deck with Free Cosmetics
There are no foil cards on MTG Arena, however you can still bling your decks with cosmetics or skins for cards. These are cards with an extended or alternate art (or sometimes both).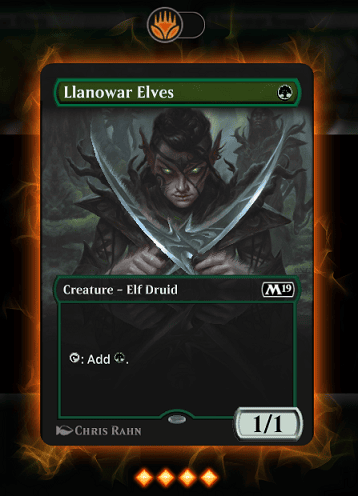 | CODE | REDEEMS | EXPIRES |
| --- | --- | --- |
| ParallaxPotion | Revitalize card + card style | January 1, 2023 |
| SuperScry | Opt card + card style | January 1, 2023 |
| FoilFungus | Deathbloom Thallid card + card style | January 1, 2023 |
| ShinyGoblinPirate | Fanatical Firebrand card + card style | January 1, 2023 |
| SparkleDruid | Druid of the Cowl card + card style | January 1, 2023 |
| OVERTHEMOON | Arlinn, Voice of the Pack card style | January 1, 2023 |
| INNERDEMON | Ob Nixilis, the Hate-Twisted card style | January 1, 2023 |
| SHIELDSUP | Teyo, the Shieldmage card style | January 1, 2023 |
| WRITTENINSTONE | Nahiri, Storm of Stone card style | January 1, 2023 |
| ENLIGHTENME | Narset, Parter of Veils card style | January 1, 2023 |
| FNMATHOME | 2 random cosmetics | unknown |
MTG Arena Codes from Physical Products
Some MTG products also come with a code which you can redeem on Arena. However, be careful as not all products have MTG Arena redeem codes. To help you out we have a list of all products that include a Magic Arena code:
Each of those products comes with a code that's unique to them. Therefore you can only redeem it once and we cannot provide them here.
Planeswalker Decks
Let's talk about Planeswalker Decks real quick. Firstly, these are great for new players just learning the game. Cards are simple, yet interesting enough.
Each Planeswalker Deck contains:
60-card deck (including a planeswalker)
2 booster packs
paper deckbox
code for MTG Arena (for an exact same deck)
On the other hand if you are a more experienced player you might find these decks lacking in power level. The reason for this is that they're clearly aimed at beginners.
However these decks are pretty fun and balanced to play against each other. That's why you might want to get a whole bundle of five – and use them for a game night with your friends.
You can find more about these in our Planeswalker Deck Guide for Core 2021.
Take notice that not all Planeswalker Decks come with a code. Older ones don't have them. When you buy a deck check the table above where we listed all the decks with that come with a code.
MTG Arena Prerelease Codes
Prerelease is a tabletop MTG tournament held one week before the new set releases. Why would an Arena player care about those? Well, they're the most fun MTG events for sure. Besides that you'll also get a unique MTGA code!
This code grants you a free entry into a Limited event in MTG Arena. Guilds of Ravnica code gave you a free sealed, while Ravnica Allegiance provided a free draft. A code from a certain prerelease can only be used once. That means if you have been to two Ravnica Allegiance prereleases, you can only use one of the MTG Arena promo codes.
If you decide to play at the prerelease, contact your local game store. The dates below should give you some info on when to expect the tournament – but exact date may vary from store to store.
| EDITION | PRERELEASE WEEKEND |
| --- | --- |
| Ikoria: Lair of Behemoths | May 15-17 2020 |
| Core Set 2021 | July 3-5 2020 |
| Zendikar Rising | September 2020 (exact date TBD) |
Prerelease Kits from War of the Spark onward contain a code for 6 Packs from respective set. Your M21 prerelease pack will also have one.
If you don't like to play in real-life events but would still like to get a code and some paper cards, you can buy a Prerelease Kit online. Just be careful – don't get a Kit before Guilds of Ravnica – there is no code in older ones.
More Helpful Tips
We hope that you got something nice and new for your Arena collection. To be sure that you never miss new MTG Arena codes give us a follow on our Instagram or Facebook.
re you trying to get better in Magic? Check our guide on how to build better decks! Or maybe you just want to draft? Learn all about Ikoria: Lair of Behemoths in our Draft Guide.
If you just stumbled upon this page and haven't played MTG Arena yet, you can download it here. On the other hand, if you are looking to get into tabletop Magic, check out our guide for newer players so you won't buy something you don't need.
Until next time, have a blast and may you always get the 750 gold quest in Arena. 🙂